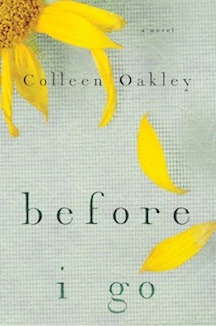 Before I Go
Expected publication: January 6th 2015 by Gallery Books
The blurb:
A heart-wrenching debut novel in the bestselling tradition of P.S. I Love You about a young woman with breast cancer who undertakes a mission to find a new wife for her husband before she passes away.
Twenty-seven-year-old Daisy already beat breast cancer three years ago. How can this be happening to her again?
On the eve of what was supposed to be a triumphant "Cancerversary" with her husband Jack to celebrate three years of being cancer-free, Daisy suffers a devastating blow: her doctor tells her that the cancer is back, but this time it's an aggressive stage four diagnosis. She may have as few as four months left to live. Death is a frightening prospect—but not because she's afraid for herself. She's terrified of what will happen to her brilliant but otherwise charmingly helpless husband when she's no longer there to take care of him. It's this fear that keeps her up at night, until she stumbles on the solution: she has to find him another wife.
With a singular determination, Daisy scouts local parks and coffee shops and online dating sites looking for Jack's perfect match. But the further she gets on her quest, the more she questions the sanity of her plan. As the thought of her husband with another woman becomes all too real, Daisy's forced to decide what's more important in the short amount of time she has left: her husband's happiness—or her own?
---
Daisy beat cancer once.
Daisy is only 27.
Daisy had her cancer return with a vengeance, eating away at her whole body.
Daisy never asks you to feel sorry for her.
That's part of the reason you'll come to love Daisy.
It all sounds so heavy, doesn't it? Cancer, youth, knowing you're going to die in a matter of months. It should be this cripplingly depressing novel but really? It's kind of not. I loved that. Don't mistake what I'm saying – it's a powerful book, an emotional book, a book that makes you think about how you prioritize things in your life while you're reading it – but it's not one that beats you over the head with "CARPE DIEM! WE COULD GO AT ANY TIME! COUNT YOUR BLESSINGS, READER! I'M GONNA RIP YOUR HEART OUT NOW, K?!?!"  It's subtle and realistic without feeling preachy. It works beautifully.
Daisy doesn't get caught up in the mourning of her own life. She grieves, proud of herself for flying through the stages of grieving faster than is normally expected, but does so in a way that is accepting of her fate.  She's going to die. She doesn't like it, she would change it if she could but she can't. So she makes lists and plans. Things to fix around the house, loose ends to tie up, and…oh yeah, someone to care for her charming if goofy husband, who can't make canned soup for himself or pick up his own socks or find his car keys on the first try.
Before I Go narrows the discussion of death to one particular aspect of it: death in the context of marriage. How do you prepare your spouse for a life without you? Can you accept that your spouse is young and will likely eventually move on to someone else when you're gone? Do you really want him to? How do prepare him, and yourself, for the inevitable without creating a huge divide in the process?
It's billed as a story about a women finding her soon-to-be widowed husband a new wife. That's really the B-storyline.   It's there but it's not the major focus of the piece.  We take the ride with Daisy – we're there when she gets her diagnosis, her treatment options, when she breaks the news to Jack, her mom, her best friend. We're there when she turns her anger at her cancer onto those same people.  We walk through the regrets with her and scream at the page "JUST TALK TO THEM!" but understand why she doesn't.
I've seen a ton of people call it a tearjerker. It wasn't for me (until the very last chapter). It's a light read about what should be a very heavy subject.  Colleen Oakley isn't writing simply to manipulate your emotions or tug at your heartstrings simply for the sake of selling books.  Daisy faces her diagnosis and her impending death in a practical and pragmatic manner, sprinkled with the inevitable breakdowns and outbursts.  It's a fast-paced book, not weighed down by despair, and one that you'll be better for reading.
---
Disclaimer:  I received an advanced copy from the publisher for review. Expected publication: January 6th 2015 by Gallery Books